A series of photographs
by Dado Ruvic came across my social media net yesterday and I'm glad it did. Sarajevo and Los Angeles in 1984, were the first Olympics I can remember watching, when I was eight years old. And ten years later, the four-year long Siege of Sarajevo was the focal point as Serbs, Muslims, and Catholics waged war as Yugoslavia broke up and eventually became Serbia, Kosovo, Montenegro, Macedonia, Bosnia & Herzegovina, Slovenia, and Croatia.
As we hear about the billions poured into facilities and infrastructure by host cities now, this pictorial is a sad illustration of what a civil war and a foundering economy can do to negate those dollars. (It's also a reminder of how quickly some of our man-made structures can start to be taken back over by nature in thirty years.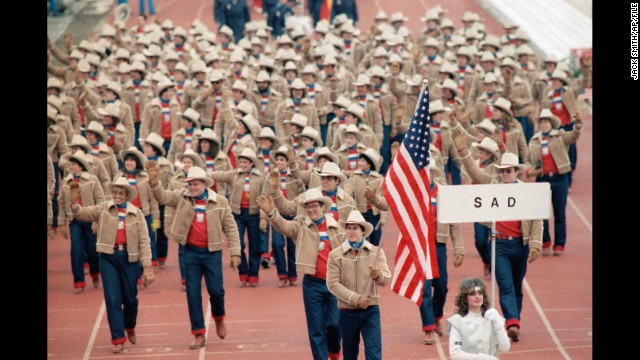 [I do have to say that I think many of those pictures would be much improved by a healthy covering of snow.]
This Today article
takes a broader look at venues and what they have done with facilities once the Olympians leave town. And
here are some images
from the more recent, but often-cited example of poor planning, Athens games.
And no story about the Sarajevo games would be complete without an image of what the American athletes wore to the Opening Ceremonies...